---
Learning Objectives
Learn about spatial data storage formats
---
Data Storage Formats#
Vector Data File Formats#
Raster Data File Formats#
Rasters are in part defined by their pixel depth. Pixel depth defines the range of distinct values the raster can store. For example, a 1-bit raster can only store 2 distinct values: 0 and 1.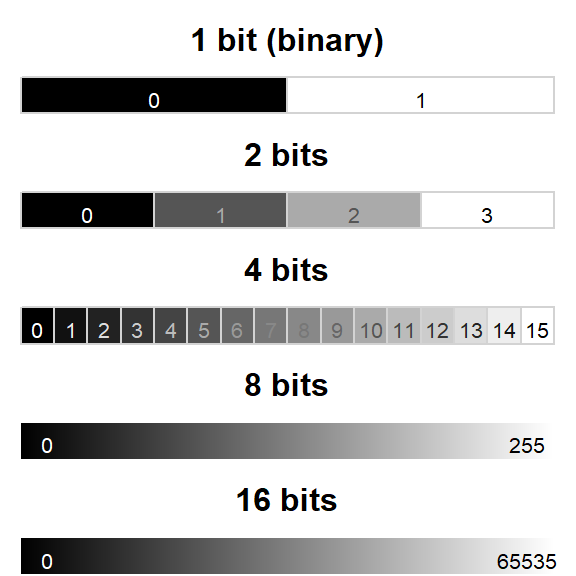 There is a wide range of raster file formats used in the GIS world. Some of the most popular ones are listed below.
Imagine#
The Imagine file format was originally created by an image processing software company called ERDAS. This file format consists of a single .img file. This is a simpler file format than the shapefile. It is sometimes accompanied by an .xml file which usually stores metadata information about the raster layer.
GeoTiff#
A popular public domain raster data format is the GeoTIFF format. If maximum portability and platform independence is important, this file format may be a good choice.
File Geodatabase#
A raster file can also be stored in a file geodatabase alongside vector files. Geodatabases have the benefit of defining image mosaic structures thus allowing the user to create "stitched" images from multiple image files stored in the geodatabase. Also, processing very large raster files can be computationally more efficient when stored in a file geodatabase as opposed to an Imagine or GeoTiff file format.